Fashion as a force for good in SEA
. . .
Beyond engaging consumers, ZALORA elevates its reputation and leadership in Southeast Asia's fast-changing e-commerce landscape
The client: ZALORA
Scope of work: (1) Strategy and narrative development (2) Executive profiling (3) Media relations
The task:
With a focus on positioning ZALORA as the driving force behind fashion and lifestyle transformation in Asia's e-commerce industry, RICE was tasked with developing the narrative and messaging framework, and maintaining a steady flow of tier-one earned media coverage for ZALORA's executive leadership. This includes securing media interviews, placing bylines, sourcing opportunities for speaking engagements and panel discussions, as well as supporting the brand on awards submissions.
When faced with unprecedented transformation, lead the charge
Despite the onset of market disruptions in 2020, ZALORA was able to leverage its spirit of agility and innovation to not just survive, but lead the industry during this period of rapid change. In fact, by expanding categories and brand partnerships, elevating its platform service offerings and doubling down on its sustainability commitments, ZALORA was able to address the evolving needs and demands of a growing pool of digital consumers, and achieve its first full quarter profitability in Q4 2020.
Alongside this, ZALORA also helped brand partners navigate evolving consumer trends by allowing them to tap on its extensive pool of trade data, through its data solutions service, TRENDER. The launch of the inaugural Southeast Asia TRENDER Report last December marked a milestone moment in our communications programme, reinforcing ZALORA's industry leadership and showcasing their successful pivot amidst challenging circumstances.
Gunjan Soni's appearance on Bloomberg
Walk the talk and embody the change
ZALORA was also keen on communicating the impact of its efforts in two key areas: Sustainability, and Diversity, Inclusion and Belonging – both key tenets of their business.
Last year, ZALORA emerged as the first fashion e-commerce player in the region to release a comprehensive Sustainability Strategy, establishing ambitious targets for 2022 and 2025. In taking accountability for its own environmental impact, they sought to take a holistic approach by involving all stakeholders in the fashion ecosystem – from customers, brands and vendors, to ZALORA employees – to enact positive change. Now a year on, as part of their first Sustainability Report, we helped ZALORA highlight the progress they have made in fulfilling some key targets ahead of time, including diverting warehouse waste from landfills and increasing its portfolio of sustainable apparel for consumers.
Another powerful story at ZALORA that we have been proud to share is the story of its diversity, with over 30 nationalities and a near-equal gender split across their workforce (55% female to 45% male employees), as well as 45% women in ZALORA's top 50 leadership team. In fact, the company's top leaders include Chief Executive Officer Gunjan Soni, General Counsel and Chief People Officer Louise Pender, and Chief Technology Officer Silvia Thom.
Their stories of leadership, including personal insights gleaned over years of experience and through their own passionate advocacy, serve as an inspiration for the wider industry and underscore ZALORA's deeper impact.
Going for gold
To give weight to the story that we want to tell for ZALORA, RICE recommended a quality over quantity-type approach, and prioritised pitching to top-tier broadcast media. We identified Bloomberg TV, BBC Asia, CNBC and CNA as primary targets and developed a series of curated pitches to secure interest. This was paired with a staggered pitch plan to other mainstream, lifestyle and trade titles, that would allow the key spokespeople to be equally and consistently profiled for their unique contributions, while also collectively telling a more comprehensive and compelling narrative of ZALORA's leadership team.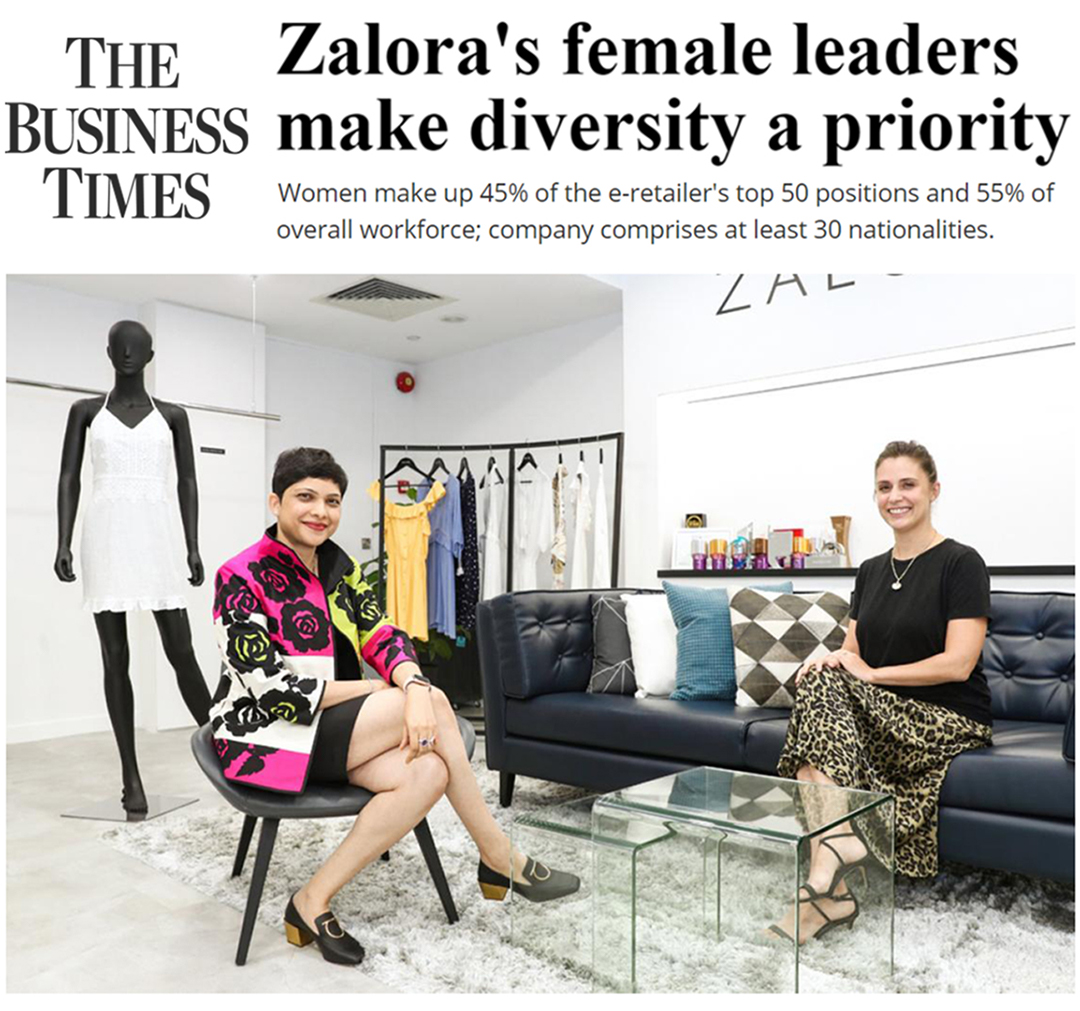 The results:
Drove visibility around the announcement of their Q4 earnings and its ongoing sustainability efforts by securing two major interviews for the CEO — one on Bloomberg TV, and another on BBC Asia (live broadcast)
Secured coverage on The Business Times (both print and online), Singapore Tatler, and Human Resources Online to highlight the company's efforts in Diversity, Inclusion and Belonging
Provided timely commentary about modest wear and Eid on Channel News Asia and BBC
The team is collaborative, accommodating and pleasant to work with. We are an organisation with an always-on calendar. The team is able to keep up with the pace and the volume of work needed to support us.

Christopher Daguimol, Group Head of Public Relations, ZALORA Group
Your RICE takeaway:
As with understanding yourself, knowing your brand begins with looking inward and taking stock of what you already have to offer. ZALORA already has a great track record when it comes to Diversity, Inclusion and Belonging – with measures such as inclusive hiring and training programmes for all employees – so we stepped in just to help strategically call attention to how they've been putting policy into action.
Then there is the proactive business of knowing the zeitgeist. What are the topics of discourse right now? What do people care about? Find out what matters to the media, to your audience and to the wider public, then earnestly think about how your company can organically and meaningfully figure into all of it. A word of caution: this cannot be forced. Inauthenticity and contrivance are palpable in this age of hyper-scrutiny and greater demands for transparency. Engage with topics and causes that align with your company's values. This is a big part of what we do at RICE with our clients.
Knowing the media, i.e. which publications and outlets to reach out to, is highly pertinent. Even though we cast a wide net for ZALORA — with media targets across broadcast, tech, retail and marketing publications — we ultimately curated stories for the right journalists based on their beats and preferences, and more importantly, their reach and target audiences.