Culture
What's your bias?
. . .
Getting candid about bias within and outside the workplace
When putting together this article, we posed the following question to our participants: "What's your bias?"
No, we weren't talking about K-pop.
Instead, we wanted to find out more about their experiences with workplace bias, and what they believe can help address it. We chatted with some of our colleagues and friends from AKIN as well as our clients, and here's what they had to say about the four-letter word.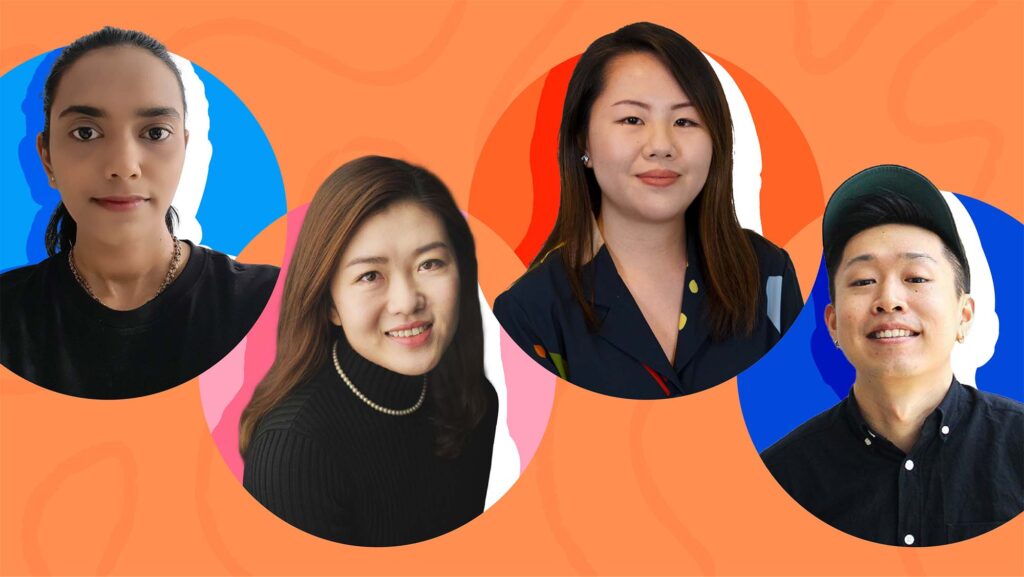 (From left to right) Anisha Ramkorun, Ying Li, Shannon Chau and Kenneth Tan
1. Anisha Ramkorun, Finance Analyst, AKIN
Sadly, I am one of those who have faced "double-bind" bias. This is when women are socially and culturally expected to be nurturing and likeable, which, in turn, affects their consideration for leadership positions. On the other hand, if they are assertive and forthright, they are deemed to be unlikable and too bossy to be a good leader. A no-win situation!
One way to overcome this is to provide implicit bias training, to raise awareness and help people understand that their thoughts and beliefs may be inaccurate. The fact is, "we cannot all succeed when half of us are held back."
2. Ying Li, Marketing and Communications Manager, Eaton
As a successful businesswoman, my mother set a great example for me, demonstrating that women can achieve as much as men. I'm also lucky to be in a work environment where I don't feel judged or be thought less of because of my gender. An organisation or society can truly thrive when people don't see colour, gender or age. At a personal level, we can also achieve a lot more when we are open-minded and treat people as equals.
3. Shannon Chau, Senior Account Manager, RICE
Assumptions of what a woman should or shouldn't be are still very present in this day and age. It's not uncommon to still hear stories of women who decline leadership positions due to how they may be perceived, or even how their pay increase or promotion will reduce their chances of getting into a relationship.
I used to be afraid to speak up for fear of damaging relationships but I am working on it. It's not necessarily about convincing people but giving them the opportunity to understand and respect different viewpoints. I've also learnt that the most powerful tool you own is your voice so use it to the best you can.
4. Kenneth Tan, Design Lead, AKIN
Whether you're a newbie or oldie, regardless of gender, we are one. For instance, it can sometimes be easy for new employees to feel isolated or displaced, especially when we work remotely most of the time now. To ensure that everyone feels included and that we have a greater understanding of each other's personalities, sensibilities, and working styles, we usually will have welcome team lunches whenever someone starts their first day of work. Everyone knows how difficult first days and new settings can be, so this will definitely help ease them in and make them feel included.
(From left to right) Jane Ng, Koey Kwong, Nasyitah Tan and Aung Swam Htet
5. Jane Ng, Head of Marketing, APAC, ESET
There's still a perception that females aren't as tech-savvy as males in our society. I had this bias in my school days too and thought that the tech industry wouldn't be exciting despite being fascinated by technology. But I realised that it's about taking the time to constantly upskill and stay at the forefront of what's happening to thrive in whichever industry.
I make it a point to build a culture where everyone around me, regardless of gender, is confident to speak up and believe in their own abilities. More women should be proud of and comfortable about sharing their accomplishments so they can influence females who aspire to pursue a similar career path as them. We shouldn't be afraid to take ownership, dispel any prejudices and be more assertive. A confident attitude is key to propel forward.
6. Koey Kwong, Account Manager, RICE
A common misconception is that women are less talented in tech, and this is reflected in the wide gender gap still present in the industry today. The RICE Hong Kong team has been collaborating with tech clients in the social media, data centre and virtual insurance sectors, and we're happy to see that more female executives are working for and representing their tech companies. I can hardly consider myself a tech person, but no matter the task at hand, we've always managed to figure out complex problems and solve technical issues ourselves.
7. Nasyitah Tan, Consultant, RICE
I've worked with women who have devoted a good part of their lives to their families. Sometimes, they would ask, "What are my abilities and strengths outside of my role as mothers or wives?" "What ambitions of my own can I possibly have?" These are loaded questions that reflect the bias that many women experience. For all women in the many varied roles that they are in, at whichever level of society, for whatever reasons they might have – let's stop judging, start listening, and seek to understand.
8. Aung Swam Htet, Account Executive, RICE
"Women leaders inspire me" is a quote that I recently shared online. I'd like to take this opportunity to honour two women leaders in my life: My mother, a middle school dropout who is successfully running a local tea shop, and who raised two accomplished graduates. The other is my lecturer from my undergraduate studies. One taught me love, empathy, and how to run a local business, and one taught me how to have a successful career.
In the RICE Myanmar team, I have never had to fight for women's rights as it's always been a fair and equal space for every individual. It is also a safe place for everyone regardless of their sexual orientation and beliefs. Such inclusivity and equality have allowed us to contribute more meaningfully through our work.
06.4.2022