Powering brand engagement with Eaton
. . .
Since 2018, RICE has been working with Eaton as an extension of their marketing communications team. From media relations and content strategy to internal communications and social media, RICE continues to help Eaton strengthen brand engagement with its key stakeholders.
It has been a great pleasure to work with RICE since day one. They are such a dedicated and reliable group of professionals who go the extra mile to find out what we need and want. Most importantly, they know their stuff and provide us unbiased advice that is aligned with our company values.

Li Ying, Marketing Communication & Brand Manager, East Asia, Electrical Sector, Eaton
One of the projects RICE was tasked with was to run an integrated communications campaign to mark Eaton's 25th anniversary in Singapore. Our integrated approach covered owned, shared and earned media targeting internal as well as external stakeholders.
Central to the campaign was the EatonSG25 microsite. We managed and developed website content, including an infographic, social media posts. RICE also coordinated interviews with Eaton employees, and provided content and project management to produce a campaign video. In addition, we put together newsletters for internal stakeholders and developed thought leadership blog posts for executive spokespeople.
Driving engagement through integrated communications
With Eaton heading into its 25th year in Singapore, the organisation's communications goals were to educate employees and partners on how Eaton's journey has helped shaped the Singapore landscape while raising brand awareness externally.
Through the EatonSG25 story, our goals were to drive conversation amongst internal stakeholders and partners about their experiences with Eaton. Active and engaged participants in the campaign provided us with the opportunity to develop a bank of user-generated content. Together with other owned and shared content, these stories were used to raise brand awareness amongst external stakeholders.
To kick off, RICE developed messaging around impact, innovation and integrity to illustrate Eaton's commitment to improving people's lives and the environment through safe, efficient and reliable power. This narrative is central to Eaton's Singapore journey. It helped the company build – and continue to develop – "partnerships that last", the tagline of the EatonSG25 campaign.
2020: Phase One
We recommended a two-phase commuications approach for the campaign. The first phase takes a content-driven look at Eaton's culture of innovation, learning and collaboration. The objective was to build up a library of content to roll out at the launch of the campaign.
RICE collaborated with Eaton on developing newsletters, leadership communications and intranet articles that informed and engaged internal stakeholders. We facilitated a series of Q&As with Eaton Singapore employees to share their experiences working at Eaton. Staff and external stakeholders were also invited to submit stories spotlighting the company's culture of collaboration.
RICE also conceptualised an Eaton Time Capsule section for the website. This comprised quotes and images to spotlight the creativity, innovation and spirit of the Eaton Singapore team over the past 25 years.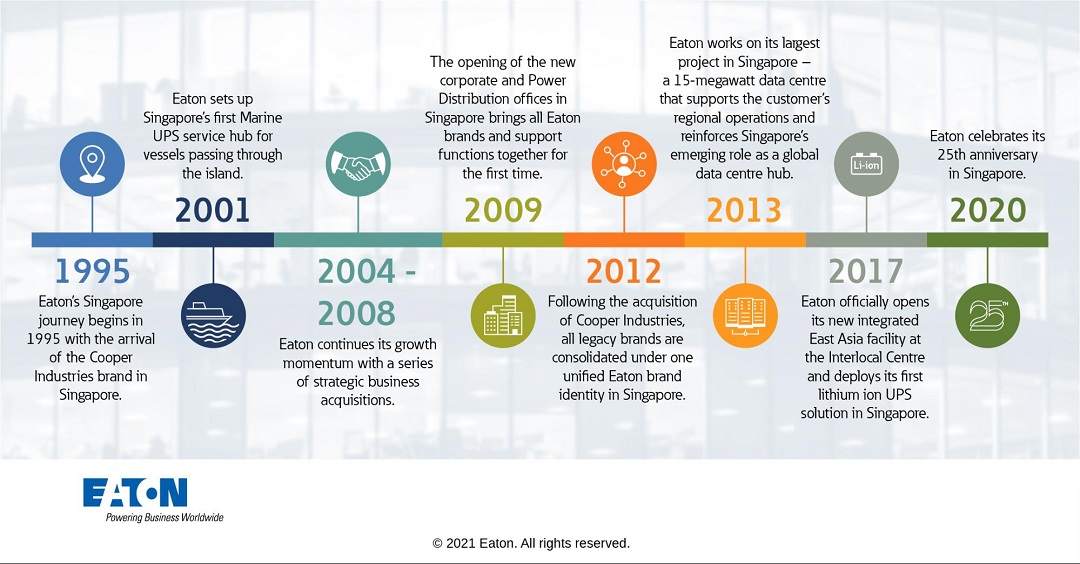 In addition to content to support the launch of the campaign microsite, we also developed long-form thought leadership blog posts. These were published externally on executives' LinkedIn profile pages.
Looking forward
Slated for 2021, phase two is themed "Innovation for the Future". In anticipation of the gradual easing of COVID-19 restrictions, it is a forward activity-driven look at Eaton's journey of helping more companies in Singapore and the region to progress toward a greener, digital future.
At the same time, content developed in phase one – including content from Eaton's story submissions portal – is further amplified on social and the website during phase two. Targeted media outreach will also continue, in order to strengthen Eaton's profile locally and in the region.
Learn more about how your brand can get the most out of your integrated marketing and communications efforts here.