Culture
Why I'm Leaving RICE
. . .
Exposing the truth about my RICE internship
I'm an intern at RICE and I'm about to leave the company. And I'm here to expose the truth about my internship experience.
While searching for communications consultancies for my internship, a friend told me to check out RICE because of the office's "aesthetic" and how vibrant the company's culture seemed. Sure enough, I was immediately drawn to the overall vibe and how warm everyone seemed. But in all honesty, a huge part of why I wanted to join RICE was so that I could meet Teddy – the agency's honorary employee.
Sadly, I'm here to report that after five months here, I still haven't met him.
My first few days were a MESS
NGL, before embarking on this internship, I was really nervous. This was to be my first legit work experience and I wasn't even familiar with B2B or enterprise technology (which makes up the bulk of the accounts I worked on). More than anything, I was afraid of under-performing. True enough, my first few weeks weren't smooth-sailing. I made a number of mistakes like messing up the media monitoring format, and mistaking an interview pitch for a byline opportunity. Just clownery.
Furthermore, having to start my internship from home made me feel pretty lost at times. I couldn't discuss tasks with my team in-person, and had psyched myself into thinking that asking too many questions would annoy them. The uncertainty that came with not being able to gauge their reactions made me even more hesitant to reach out.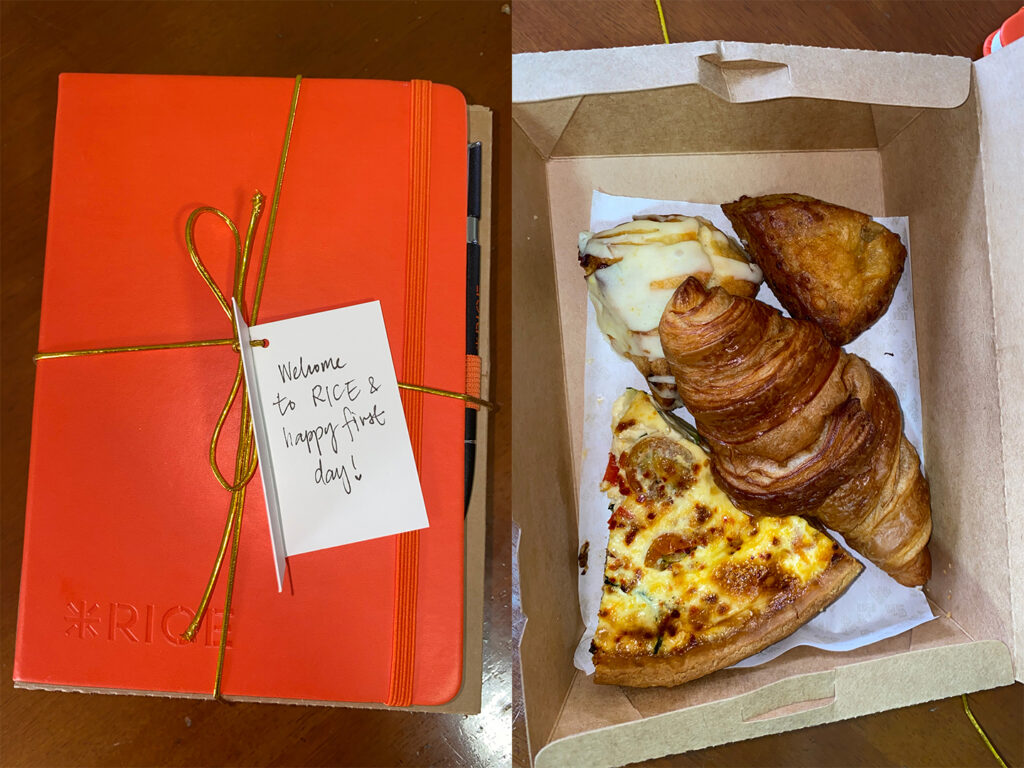 Despite my initial hiccups, I knew that I was in the right place because of the authentic exposure that RICE provides its interns. In my first week, I attended product trainings, drafted a social media post, compiled a media list, and wrote up an update on industry news. Being trusted with these tasks right from the onset made me realise how enriching the rest of my internship would be. I've since assisted in new business proposals, a flagship event, and even supported one of my accounts in crisis management.
Apart from day-to-day tasks, I also organised and hosted a game during one of our Friday Breakfasts, a weekly townhall where RICErs gather to share updates from the week. Nerve-racking at first, it turned out to be an incredibly rewarding experience when I received feedback that the game was a great way for everyone to get to know each other better.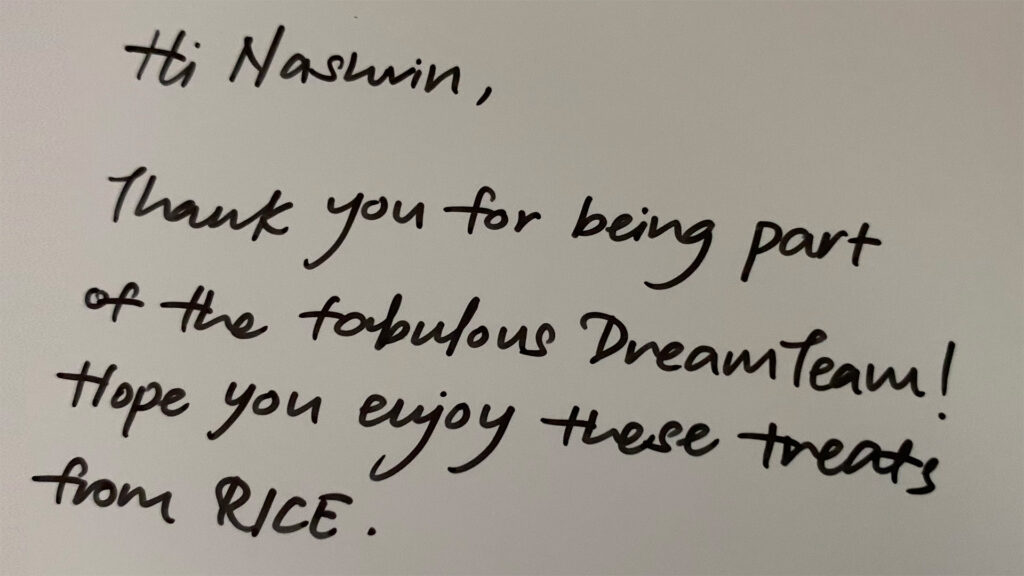 Spilling the tea about my colleagues
Besides being involved in various tasks, the guidance from RICErs have been instrumental to my growth. When I first joined, my colleagues took the time to explain new tasks to me and provided past examples for reference. And despite what my inner saboteur would have me believe, they always encouraged me to ask questions: "If you don't ask questions, we can't teach and you can't learn."
My mentors also scheduled monthly virtual catch-up sessions to check in on my progress and well-being. After going through my internship goals and feedback, we'd usually spend an hour chatting about anything under the sun. I always felt lighter after these sessions, as I knew there were people I could call my friends and relate to.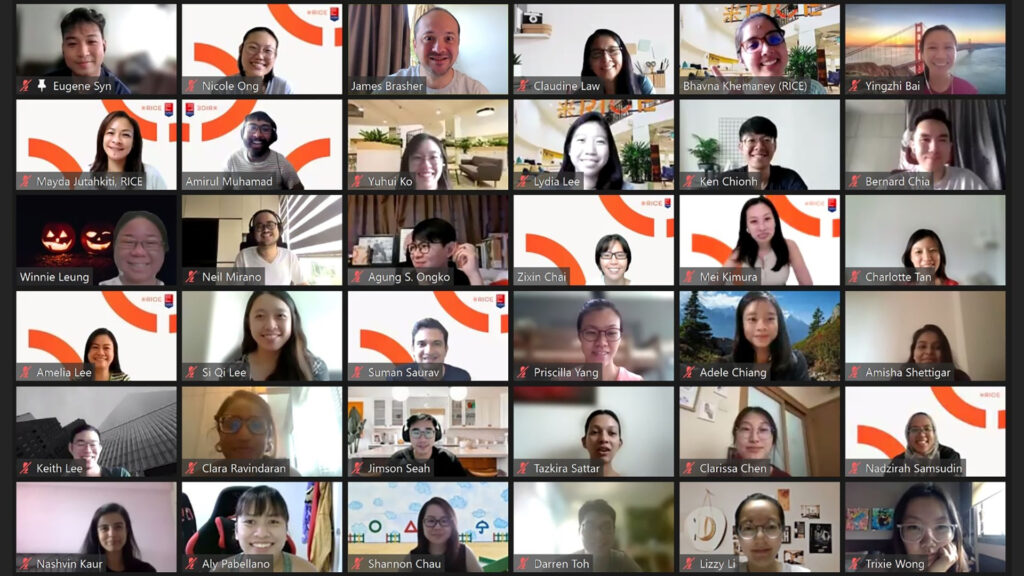 WFO – A whole new world, a dazzling place I literally had never been
After a while, I realised how comfortable I was with my WFH arrangement. Every morning, all that I had to do was wake up, brush my teeth, and start work without needing to worry about what to wear. It was also easy for me to deal with stress as I have the habit of pacing around my room to calm down. (Let's be real, I'd surely get judged if I did this in the office.)
The first time I went to the office (after restrictions were lifted), I missed my bus, had to wait for nearly 30 minutes for the next one, and couldn't find the lift lobby when I reached. Despite these shenanigans, working at the admittedly gorgeous office turned out to be really enjoyable. Not only was lunchtime more interesting (gossip, shh) but I could also work and panic with other RICErs in-person.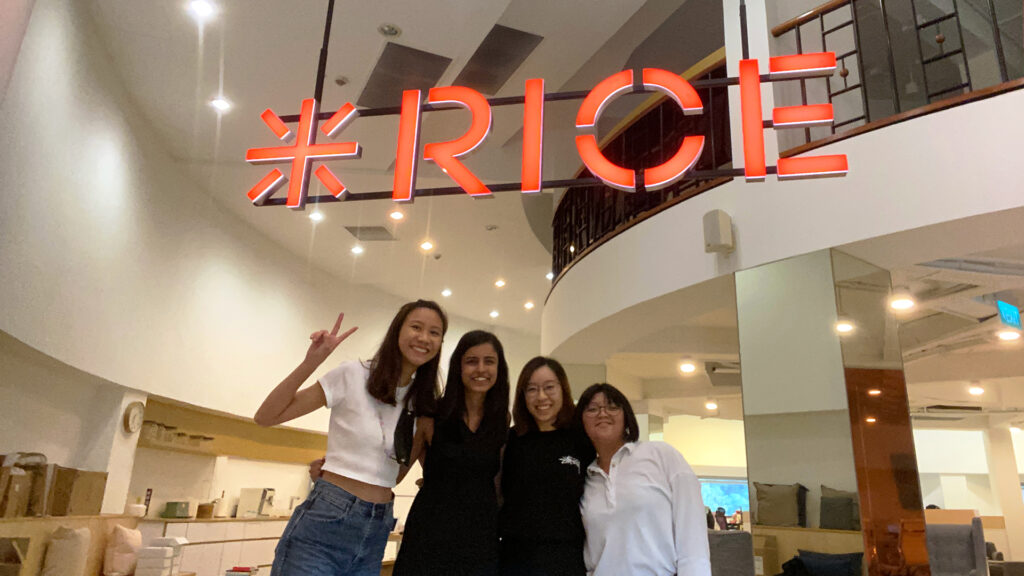 As someone who's REALLY been through it (an internship, that is)…
So I'm leaving RICE… simply because I've come to the end of my internship. *gasps*
When I was a struggling newbie, I thought I'd look forward to being free after ending my internship. Instead, I'm dreading my last day here. Shocker! I won't, however, miss waking up early to read The Business Times though!
Jokes aside, I'll never forget my time here. RICE has spurred me to take risks and grow tremendously as an intern and as a person. I won't lie – agency life is not easy, but you won't have much to worry about in such a driven yet nurturing environment. I've worked alongside the most talented and capable people whose dedication has never failed to inspire me, and this has made all the difference even on the most challenging days.
RICE has taught me more than just about PR. I've grown into a more resilient and competent person than when I first joined, and am leaving with friendships I'll always cherish.
12.11.2021