One of the exciting things about working in the public relations industry is being able to meet a variety of people from all walks of life. One category of people we interact with on a daily basis is the media. Given our frequent communication with the media, it's inevitable that some journalists end up becoming good friends with us, while others remain merely professional contacts.
In our line of work, having a good relationship with the media has its advantages, from getting a heads up on stories they're working on, to getting the inside scoop on what's happening at a particular publication.
So how exactly can do we build that kind of connection? There's no one-size-fits-all approach, but we've found that there are a few ways to get more comfortable with getting to know journalists better, from the PR side of the block.
1. Be bold!
While hosting client events may be the best way to know a pool of journalists, this shouldn't be the only opportunity. We need to be bold and reach out directly to the journalists for a meeting. It could be on the basis of introducing new clients or simply to know more about their publication. The thing is, journalists are constantly looking for new source of content, and you'll find that most of them will be happy to set up a meeting as a chance to discuss new editorial ideas. So be bold and ask them out for a "date"!
2. Be human
You may feel nervous when meeting a journalist for the first time, especially if you're about to meet a well-known industry veteran. However, journalists are generally very easy going and approachable – much like ours, their jobs involve a lot of human interaction.
Even if you're nervous, just smile and be friendly, and most importantly, be open and honest (or at least, as much as you can be). This is often the best way to leave a good impression. Ultimately, meeting a journalist is like a making a new friend – show your sincerity in knowing that person, and over time the trust will grow and voila! You get a good professional working relationship!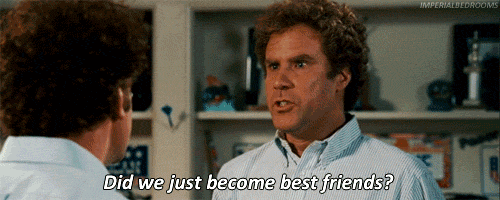 3. Be about more than the job
So what kinds of topics should one raise when talking to journalists? It's obvious that your main purpose is work-related, be it to get coverage for your client or to know more about the publication's priorities so you can send through better pitches. However, it's always good to talk about general matters to understand them on a personal level, or find some kind of common ground so you can share a bit about yourself with them. At the end of the day, you're looking to build a relationship that will extend beyond whichever clients you're focusing on at that particular moment.
How do you decide if you should start with work or life topics first? It depends on the journalist. Some of them prefer diving straight into work topics before ending off with casual talk. Others will be eager to set the pace by making small talk before moving on to business. When in doubt, let the journalist take the lead – but remember that you have more to offer than simply being a point of contact for the journalist.
4. Be open-minded
Each time I've met a journalist, I felt like I've gained a new perspective on the industry. As you can imagine, some of these journalists have been writing with the same publication, on the same topics, for numerous years and are effectively subject matter experts in their field.
As intimidating as that may be at first, the key is to be humble and go to the meeting with an open mind. You will gain a deeper understanding on the industry's trends, what interests their readers and so much more. Also, make sure to send a 'thank you' note once the meeting is over – acknowledging some of your key learnings from the discussion will show them that you did take away something important from the meeting. Plus, manners maketh the [wo]man – showing respect doesn't necessarily mean being overly formal, but it does show journalists that you interact with on a regular basis that you're grateful for the help and time they've given you.
Building a good relationship with journalists can definitely help your PR career in the future. If they know you are dependable and a good resource for information, they are likely to reach out to you as soon as an editorial opportunity arises. Or at the very least, they will be more willing to respond to your emails and return your phone calls. At least that's a start, right?